Taking the Long View – Part 2
As I was walking heroically toward the steps leading down to the river, my pack slung on one shoulder and a steely look in my eye, I tripped and fell over my untied boot laces and stumbled comically for 4 or 5 paces before flipping literally head over heels and landing on my back, still attached to my pack and unable to move like an upturned tortoise.
I was boyishly excited at the prospect of hiking even deeper into the interior than I had been before, and climbing a mountain so remote and other worldly to me. So boyishly excited, in fact, that as I was walking heroically toward the steps leading down to the river, my pack slung on one shoulder and a steely look in my eye, I tripped and fell over my untied boot laces and stumbled comically for 4 or 5 paces before flipping literally head over heels and landing on my back, still attached to my pack and unable to move like an upturned tortoise.
I did this in full view of my new team, which was wonderful because I got to laugh loudly at myself and with them, and so give my new companions all the authority they needed to take charge of the trip and refrain from any misplaced deference to me (either as guest, or employer or even just as foreigner).
To reach the summit of Bukit Batikap from the village we would first travel north, following the Joloi river, before turning north west, leaving the course of the river and ascending into the Muller mountains, occasionally following mountain streams to aid our route. The first leg was therefore by boat, using Udin's cis which is a small wooden boat with an inboard engine, and which he made himself. The boat would take us as far as some impassable rapids along the Joloi, after which we'd be on foot.
We made this section in just over a day, spending our first night on the banks fn the river with another expedition team – three men preparing for a month or more in the forest looking for Gaharu, which is a resin formed by certain species of tree that have been infected with a fungus. The resin is sold as an expensive incense in the middle east and is by far the single biggest source of income to these remote villages. We shared their camp, their fire, and their food, exchanging noodles for delicious fish soup made from an enormous and freshly caught ikan sapan.
Well fed and loaded with smoked fish for our journey, we reached the rapids early the next morning, and spent the rest of the day preparing for our expedition. The engine had to be taken out of the boat and carried up the banks to the camp. The boat had to be rowed upriver and then hauled up the banks and secured in case the river flooded and washed it downstream. Some of our supplies could be left at our camp and our kit had to be distributed between us.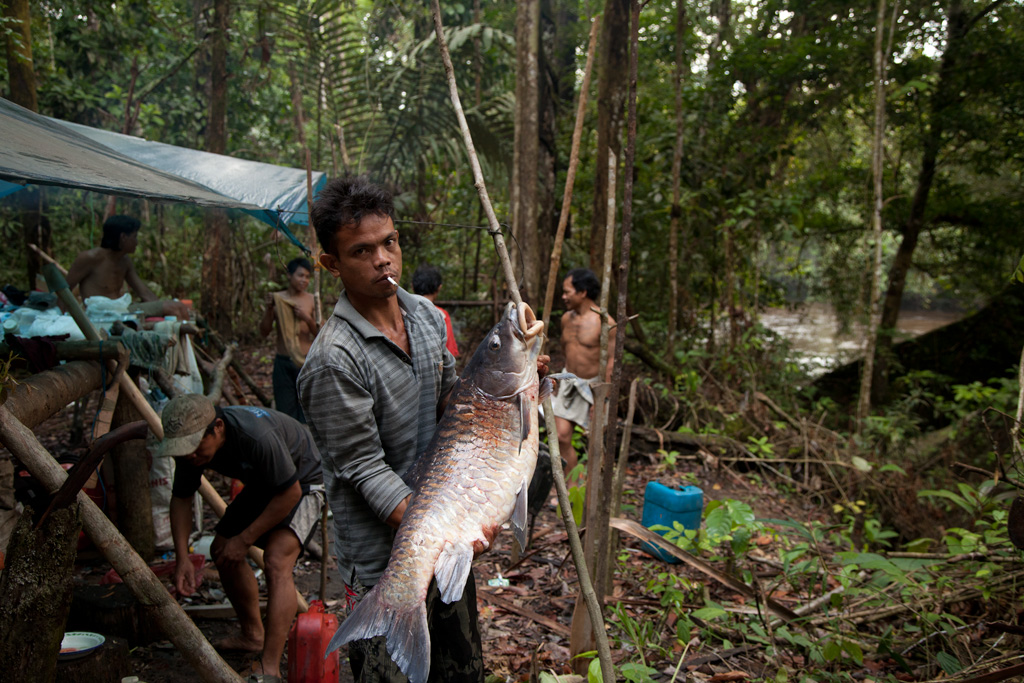 Our kit, incidentally, included the main food staples of any Indonesian trip into the forest: masses of rice, bags and bags of noodles, chilies, cigarettes, cooking oil, and more coffee and sugar than you would think it possible to consume in the planned time frame. As well as all that, it seems that packets of nuclear waste coloured energy drinks called Extra Joss are now as equally important as coffee. Good for reducing the amount of coffee and sugar required (and thus reducing weight), but bad for the wilderness because now you could almost follow some of the ancient routes through these mountains by tracking discarded packets of this stuff.
Mornings in the forest are lovely. There is a coolness in the air and a calmness to the insects that lasts for about half an hour, while the first blue-tinged light is seeping into the understory of the forest. Mist hangs over the river and the sodden ground begins to gently steam. To be up while it is still dark and enjoy this awakening is magical, and feels like a privilege, like being an invisible observer behind the scenes of a great theater before the actors launch into their performance. It is tremendously peaceful, and if you are really lucky troops of gibbons will serenade you as you stoke the fire into life and begin boiling water for coffee and breakfast.
For the next 3 days we moved quickly through the forest, first following the Joloi River north before crossing it and climbing north east into the mountains. We faced all the usual annoyances of leeches, fire ants, mosquitoes, muddy swamps and rattan (almost invisible and super strong threadlike vines with cray sharp backward facing barbs that lightly snag onto your clothes, pack and face without you noticing and then hook into you and trap you in a kind of demon spider web as walk forward and take up the slack).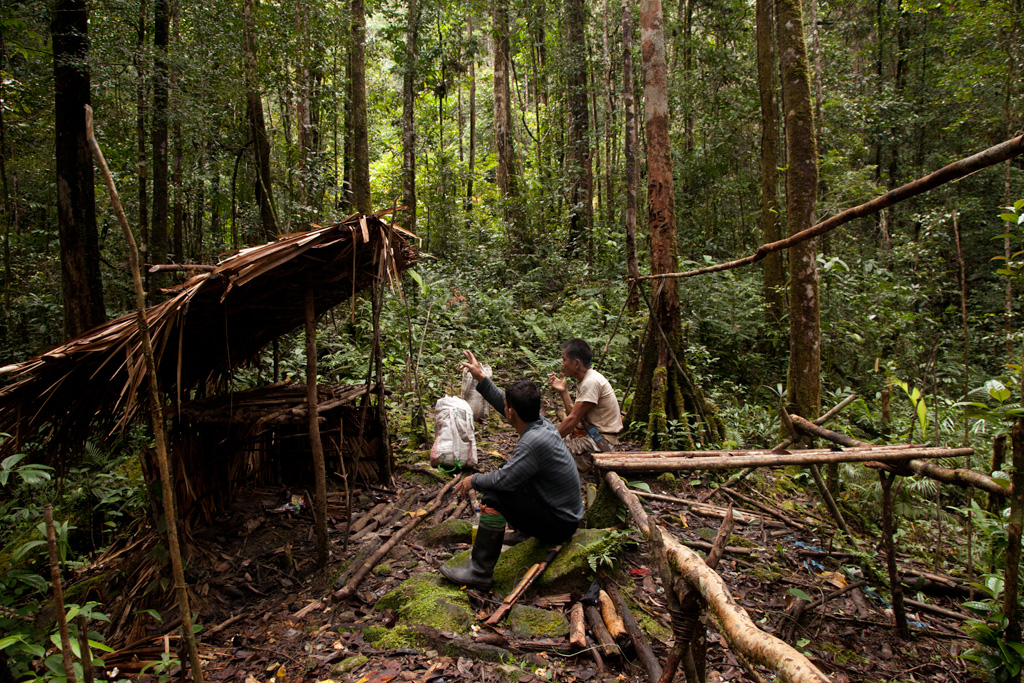 The terrain was very difficult, and sometimes precarious, and when you're moving at speed and carrying a heavy pack, each foot placement needs attention to avoid slipping or twisting an ankle. Every hour we'd stop for water, cigarettes and extra joss, and enjoy the view of the river or marvel at the fact that little forest gardens have been planted throughout the mountains along these trails by and for travellers just like us. But we made good time and reached the point where we would cross the Joloi with about two hours of daylight still left.
I had imagined this would be a waist deep affair, but it had been raining heavily in the mountains and the Joloi was in flood. To cross it we would have to swim 50m or so across fast flowing water to the other side. Udin asked me if I could swim! He knew I could but what he meant was: can you swim with your pack? He was a tease. The guys took out the tarp and turned it into a boat that would carry our packs, loading it with wood to give it buoyancy. I had all my camera equipment in my bag so I was a little nervous, but there was nothing else for it. We launched the boat with our packs inside and walked it about 200m upriver along the the east bank. It floated, and so we'd just need to keep it upright as we swam across.
The were whoops and cries of excitement as we pushed off and swam out into brown waters of the river, aiming directly across but being pushed downriver as we swam, all four of us pushing or dragging this little orange boat between us. Aliens observing us would have marveled at the tool making skills of these amusingly hairless primates! The plan was working and the only concern was making sure we reached the bank on the other side before we reached a small set of rapids further downstream! But these guys had done this before and we made it across without any bother at all.
By this point I was living a dream of Huckleberry-esque excitement and adventure, so when I saw that this was our destination for the day and that we would spend the night in a small hut surrounded by forest gardens at the confluence of these two rivers, with distant mountains completing the scene and hornbills flying overhead, I was pretty much in heaven.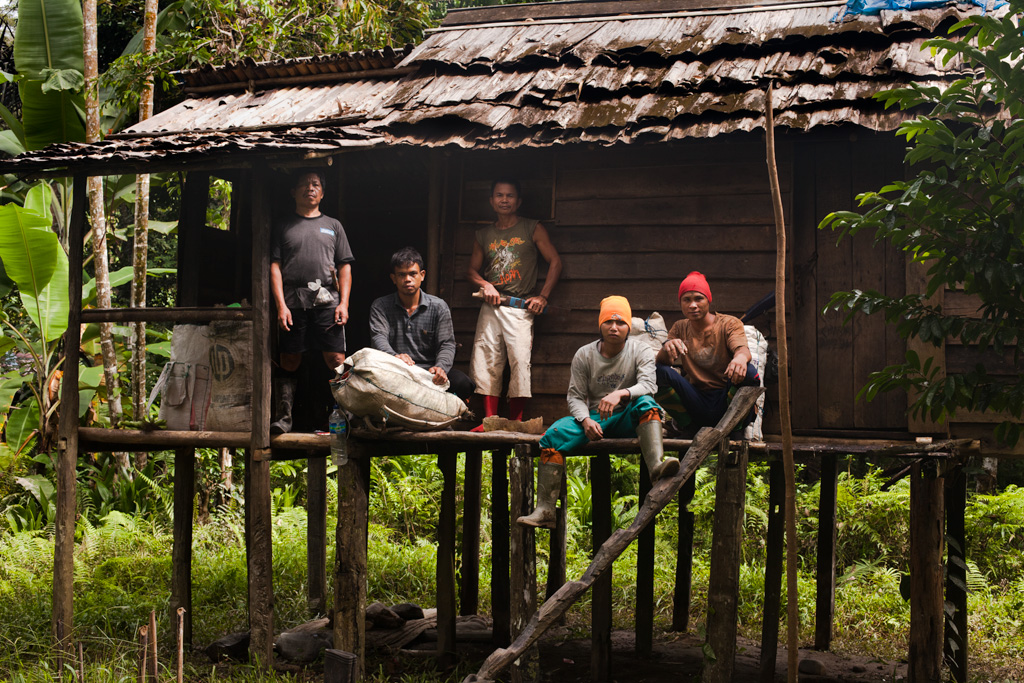 For the next three days we climbed up and into the the forest-clad mountains, sometimes walking up stony river beds through a a few inches of water, sometimes climbing up waterfalls and hopping between dangerously slippery boulders that were wedged tight against each other at impossible angles. I was fast on the trails but slow on the rocks, and more or less we were well-matched as a team and moved quickly toward our goal. We slept and cooked under our tarp, washed in streams, coped with the occasional tropical downpour and sustained ourselves with mountains of rice and delicious smoked fish and clove cigarettes.
The forest changed as we climbed, the trees becoming thinner and shorter, the ground more bare, but the leeches and mosquitoes and rattan persisted. Occasionally we'd reach a viewpoint and get a sense of just how remote we were, and how beautiful the landscape that we were embedded in was. Even from these little windows that a fallen tree might afford us while we were traversing a ridge, the scale of it was unimaginable. So much life! So much that we don't yet know! An enormous, fantastical book of existence that we have barely begun to read, even as we tear out it's pages and lose their contents forever on the fires of extinction.
The third and final part of this story will be posted soon 🙂